Danang
Videos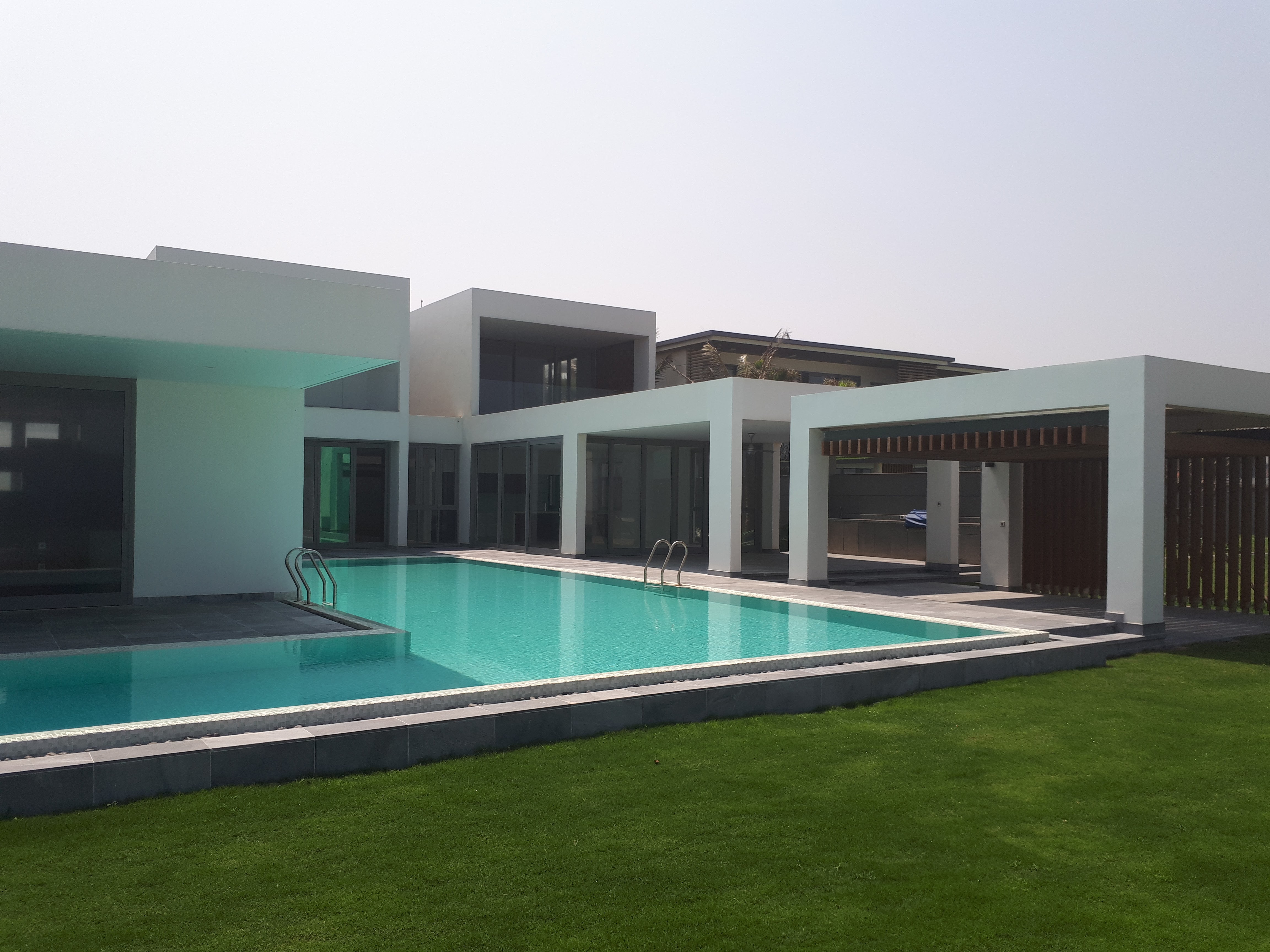 Details
SOLD

Villa , Resort
Bedrooms: 5
Bathrooms: 6
Size: 1,037 Sq Meters.
Lot Size: 1,668 Sq. Meters
Garage Spaces: 2
Year Built: 2016
"Beachfront Enclave  – Your Very Own Beachfront Home"
Positioned at the ocean's edge within The Ocean Villas, these 17 architecturally designed beachfront homes will offer uncompromising luxury and feature unobstructed views of Danang Beach and Cham Island.
The Beachfront Enclave project offers the most exclusive beachfront homes in Danang, Central Vietnam and possibly Vietnam in general!
VILLA K08 is the largest and most exclusive and the only K series villa available for sale. With over 1000m2, 5 bedrooms, library, cinema after PROFESSIONAL DESIGN CUSTOMIZATION with international architecture firm including extension of the infinity pool, this villa is set to be an ultimate beachfront address in Danang.
Completely finished with all appliances, waiting for new owner to furnish and decorate.
Key Features:
•One of the largest beachfront homes in Vietnam
•Most private with spectacular views
•Access to 5-Stars Golf and Resort facilities
•20 minutes driving to Da Nang International Airport
•20 minutes to World Heritage Site – Hoi An
"THE BEACHFRONT ENCLAVE – THE ULTIMATE BEACHFRONT ADDRESS IN VIETNAM".
All owners and residents of The Beachfront Enclave Villas will be able to enjoy free and unlimited access to the Danang Beach Resort and The Ocean Villas, with all its facilities including beach house, restaurant, bar, swimming pool, Spa, tennis court, etc.
The award winning Danang Beach Resort is the largest integrated resort development in Central Vietnam, just 20 minutes away from Danang City by car and equally accessible to the ancient town of Hoi An. The development consists of the luxurious Beachfront Enclave Villas, Ocean Villas, The Ocean Apartments, Danang Golf Club with the world-class The Dunes Course, the beach club WhiteCaps and many other facilities.

Reputable developer – VinaCapital – is offering a great Rental Program for The Villas' Owners through its' management company: VinaLiving. Owners who decide to enter the rental program can enjoy very good revenues with up to 90 days of personal use! Contact us for more details of the rental program.
The Beachfront Enclave Villas apart from fully finished villas are also offered as Bare Shell to be fitted according to buyers full preference.
Special offers for buyers through LuxuryPropertyDanang include Substantial Discounts, Free Golf Memberships, Payment Plans and more.
Click here to download the Beachfront Enclave Danang Brochure
Only VILLA REMAINING FOR FOREIGN OWNERSHIP – CONTACT US FOR DETAILS TODAY!
Agent(s) for this listing
Peter Frieske

Realtor / Managing Director
Office: +84 (0) 934 891 746
Mobile: +84 (0) 934 891 746
Fax: +84 (0) 511 135 6578
Other listings
Back to Top